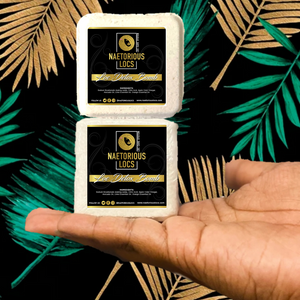 Naetorious Locs
Loc Detox Bomb Set
Regular price
$25.00
$0.00
Unit price
per
Detox your Locs with our Loc Detox Bombs! Remove build up within your Locs for a deep clean leaving your Locs lighter and Residue free!
Directions: Place Loc Detox Bomb in a tub of warm water.
After the Naetorious Locs Loc Detox Bomb has completely dissolved, submerge Locs for 15- 30 minutes. 
Rinse well and follow with the Naetorious Locs Loc'd and Lathered Cleansing Shampoo. Style as desired. 
Loc Detox Bomb Ingredients: Sodium Bicarbonate (baking soda), Citric Acid, Apple Cider Vinegar, Avocado Oil, lime essential oil, orange essentia
THESE LOC BOMBS ARE THE BOMB!! 🔥💣
I don't normally put a lot of product in my hair that would require a detox, however, I will still do an annual detox just to freshen my locs. I saw these detox bombs while shopping and decided to give it a try.
These bombs are very convenient. You don't have to mix anything. Just boil your water and drop it in the water. After 1 soak, I couldn't believe how these bath bombs drew out all the dirt and oils hidden in my locs. Fortunately, the bath bombs come in a set of 2. So I decided to use the 2nd bomb. Same results, but not as dirty looking. My hair came out very clean and light feeling. These bombs have the standard detox baking soda/ACV ingredients while including essential oils. This combo contributed to my locs feeling spongy and soft and not dry or hard feeling.
I followed up with the Naetorious Locs loc it and leave it leave in conditioner and my hair smells amazingly fresh and clean.
I am glad that I made this purchase and am very pleased with the results. I will definitely purchase again. ❤️
Highly Recommend!
---