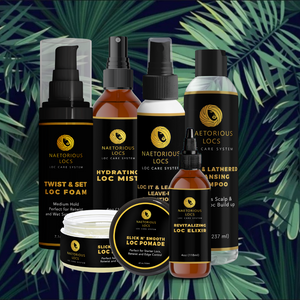 Naetorious Locs
Full Loc Care System
Regular price
$135.99
$0.00
Unit price
per
All 6 of our full sized products at an amazing price!
Hydrating Loc Mist 
8 fl oz/237ml
Ingredients: Organic Aloe Vera Juice, Rose Flower Water, Glycerin, Panthenol, Horsetail Extract, Polysorbate 20, Optiphen, Fragrance
Revitalizing Loc Elixir 
4 fl oz/118ml 
Ingredients: Sweet Almond Oil, Grapeseed Oil, Avocado Oil, Pumpkin Seed Oil, Jojoba Oil, Essentials Oil Blend, Fragrance & Vitamin E 
Loc'd and Lathered Cleansing Shampoo 
Ingredients: Organic Aloe Leaf Juice, Sodium Lauryl Sulfoacetate, Cocamidopropyl Betaine, Disodium Laureth Sulfosuccinate, Glycerin, Phenoxyethanol, Organic Lavender Flower Water, Roman Chamomile Flower Water, Peppermint Oil, Tea Tree Leaf Oil, Organic Jojoba Seed Oil, Rosehip Seed Oil, Hydrolyzed Wheat Protein, Provitamin B5, Vitamin E, Sunflower Seed Oil, Tetrasodium Glutamate Diacetate  
Twist and Set Loc Foam 
7.1oz (210 ml)
Ingredients: Distilled Water, Decyl Glucoside, Aloe Vera Juice,  Hydroxypropyltrimonium Honey, Cocamidopropyl Betaine, Phenoxyethanol,  Polysorbate 80, VP/VA Copolymer, Hydrolyzed Silk, Fragrance, Hydrolyzed Flax Seed, Cucumis Sativus (Cucumber) Fruit Extract  *USDA Certified Organic
Slick n' Smooth Loc Pomade 
4 fl oz (120 ml)
Ingredients: Distilled Water, Ceteareth 25, PEG-40, Propylene Glycol, Glyceryl Cocoate, Fragrance, Glycerin, VP/VA Copolymer, Sodium Hydroxymethylglycinate, Granatum (Pomegranate) Seed Oil
Loc it & Leave it Leave-in conditioner 
8 fl. oz (237ml)
Ingredients:Aqua (Distilled Water), Amodimethicone, Glycerin, Behentrimonium Methosulfate, Cetearyl Alcohol, Panthenol (Pro Vitamin B5), Hydrolyzed Keratin Protein, Cetrimonium Bromide, Butylene Glycol, Rosa Damascena (Rose) Oil*, Jasminum Grandiflorum (Jasmine) Oil*, Fragrance, Phenoxyethanol, Ethylhexlglycerin
Farmer
I'm new to the LOC community, looking forward to using the products and hopefully ordering a LOC more in the future. Thanks in advance......
Absolutely LOVE the products
I started following Naetorious Locs on IG & purchased due to not finding a product that could moisturize my locs & make them shine. The Loc Bundle did that & more!
I've been spreading the word to all my Loc sisters that this product mine is the TRUTH!
I'm NEVER using any other products on my locs
This product is LIFE for my locs. I tell everyone about it, I don't travel without, and Im ALL about it. It keeps my hair fresh, I love the oil, the conditioner spray keeps my locs from be brittle. It's EVERYTHING! You can tell quality time has been put into making the product just by how they package it. My items always come undamaged or spilled. Sometimes the things that seem small, can be big for others. It's appreciated. Loving this loc system!
Full loc care
I have used everything except the loc
Foam up into this point and I can honestly say I love this product so far so good. I use the loc pomade as a edge control and it holds my hair down for literally the whole day, the loc elixir is amazing helps with itch scalp and leave my hair feeling healthy and moisturizer and The loc mist help tame my frizzy hair that I seemed to always had an issue with until I started using this product and last but not lest the shampoo and conditioner have my hair feeling like it went through a spa my hair feel so renewed and smell so fresh and clean and it leaves no build up have my hair feeling so light and just fresh. My locs was installed 3 yrs ago and I have tried many products this is the best one by a long shot. This is my honest opinion… you have a forever customer and I will make sure I let the loc world know about this. Great job.
How can you eliminate the alcohol from the product
---